APOLLO VALVES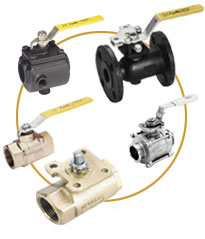 Now in its eighth decade, Conbraco Industries, Inc. is a leading manufacturer of flow control products for U.S. and international markets. The company is based in Matthews, North Carolina.
Conbraco has a history of new product development and innovation that dates back to the company's inception in 1928. Today, the Conbraco line of products includes ball valves; butterfly valves; gate, globe and check valves; backflow prevention devices; ground key cocks for gas, air, gasoline, steam and water; safety relief valves; water gauges; pipeline strainers; vacuum breakers; valve actuators and more.
Conbraco's vertically integrated manufacturing ensures a consistency of production, testing, quality and availability. It's your assurance that Conbraco flow control products will deliver long-term performance advantages. All Conbraco plants are registered to ISO 9001 quality standards.